Singing has many physical and mental health benefits,
that's why we want you to Sing With Us!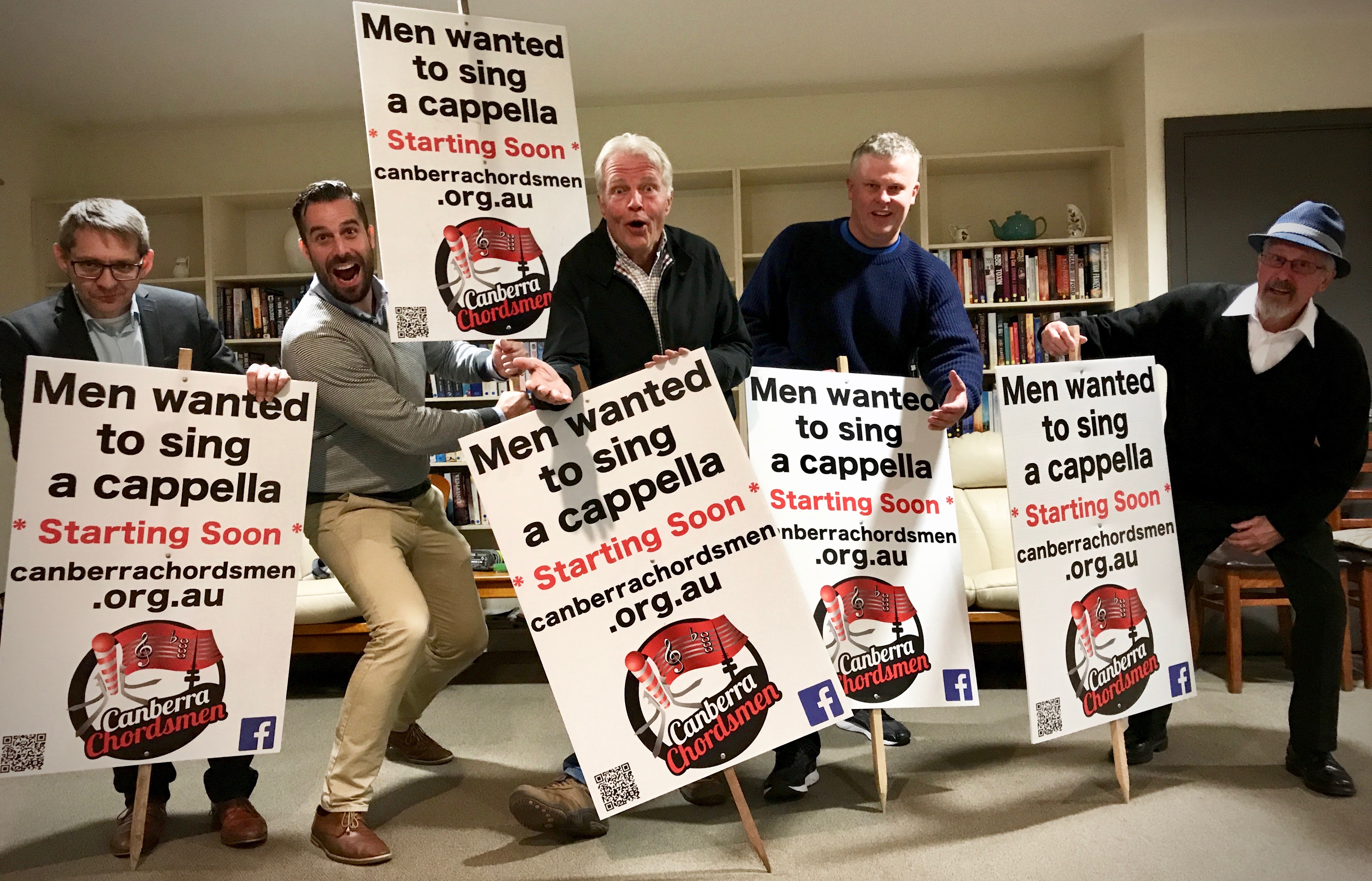 Starting on Tuesday the 28th February 2023, we invite men of all ages to a series of workshops focused on a cappella singing and performance.
When: Weekly from Tuesday 28 February 2023 to 28 March 2022.

Please arrive by 6:45pm for a 7pm start.

Where: Taylor Primary School, 88 Marconi Cr, Kambah ACT.

Fee: $40 cash. Payable on the second night.
You'll need to register for this event by contacting us via email.
Places are limited!
Drop us an email at contact@canberrachordsmen.org.au


The Canberra Chordsmen is the premier chorus in the Canberra region for men of all ages who love to sing in harmony.


Over five weeks you will learn new a cappella songs, new singing techniques, and meet a great bunch of guys.
Each week focuses on a different aspect of singing and performance, starting from the fundamentals of singing and working towards ensemble performance. Our aim is to assist all singers in increasing their skills.

The final session will include an opportunity to apply your new skills in a public performance for friends and family.


You don't need to be able to read sheet music but you do need to be able to hold a tune; we'll do the rest!

The first night is free, followed by a single cost of $40 for the remaining four nights, payable on the second night.

Please arrive by 6:45pm for a 7pm start on the first night and bring a water bottle as singing is thirsty work!
COVID-19
This event will be conducted with COVID-19 safe policies and procedure. These include limiting the number of participants, maintaining social distancing, using hand sanitiser, conducting temperature checks on arrival, and recording the names and contact informaiton of attendees.
---

You Want More?!


If you'd like to continue singing with us after that (and who wouldn't!), you will need to pass a singing audition using the songs you learn during the program. You'll record yourself singing in the chorus which will be assessed by our music team for quality and accuracy. You'll be given valuable feedback on strengths and weaknesses and if you work hard we'd love to have you as a member!

There are ongoing membership fees that cover the costs of our rehearsal venue, music copyright, director fees, uniform, insurance, national registration etc, whew! These costs will be explained to you during the audition process.

Members enjoy weekly rehearsals which are both educational and fun along with hanging out with a bunch of guys all united in wanting to sing great music together.

As a member, you'll have access to our current repertoire and learning materials and be expected to regularly practice in your own time and attend rehearsals. You'll enjoy expert tuition from our musical directors that will improve your vocal abilities as an individual and also as part of our chorus.

We perform publically at events such as the National Multicultural Festival, collaborative shows with other local singing groups, lots of carols during the Christmas season as well as private functions. We also do free shows at aged care facilities around Canberra.

Our chorus is part of a national body called Barbershop Harmony Australia. This presents opportunities to perform annually in a competition environment with singers from around Australia and overseas. We also get formal recognition of our singing goals achieved and valuable feedback and development tips.

We rehearse on Tuesdays every week of the year except for a few weeks over the end of the year.